What I do
I design and build electronics, giving consultancy to companies and individuals about their scientific and educational needs.
Here you can find my products, ranging from motor controls, sensors, processing tools and devices, and software as well.
What I expect
Being projected into scientific research, I point to the next frontiers of information capturing and elaboration.
Researchers, students or teachers, without scaring out for the partial observations may have, should be able to achieve usable results from them, better with my consultancy or products.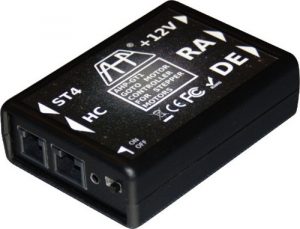 The GT1 is a stepper motor controller with goto functionality.
The GT1 can be configured to drive any kind of mount, since it is capable to adapt on any gear ratio from the configuration software.
You can change the gear ratio settings, microstep resolution, motor winding configuration and maximum goto/slew speed.
Each motor winding can be supplied by the GT1 with a maximum of 1 Ampere current. The GT1 supports overvoltage up to 18v for greater torque.
The GT1 is also compatible with the Skywatcher SynScan handset, it is EQMOD-ready, so you can use it standalone or by PC connection using software like SkyCharts, KStars or other software.
It is also possible to drive the GT1 from the smartphone using INDI and KStars for Android.
The precision in low speed, including autoguide and sidereal tracking, is 64 microsteps.
The maximum speed has no limit, but must be appropriate to the load and weight of the telescope and the power of the engines.
The configuration software can set motor parameters, go-to acceleration and maximum speed.
Specifications:
Compatibility: SynScan, EQMOD, ASCOM, INDI
max steps: 16777216 – Automatic calculation during configuration
maximum speed: Automatic calculation during configuration – optimizable
microstepping resolution: Automatic calculation during configuration – depends on total gear ratio
Inputs:

ST4 Autoguider – RJ 12
HC/EQDIR – RJ45
12v Power – 5mm Jack

Outputs:

Right Ascension – RJ12
Declination – RJ12

Recommended power supply: 12v@3000mA
Extras:

Editable motor winding configuration by software
Custom parameters saved read-only, editable by the configuration software
The configuration software – downloadable here – can set motor parameters, go-to acceleration and maximum speed.
Read the GT1 Usage Guide for informations on the correct usage of the GT1 controller
Availability: In stock
Continue reading →
The PM5 can drive 4 digital/PWM outputs reaching as high current as 5A per channel, switching in range of 0-5/0-24 volts at a maximum frequency of 10KHz.
The PM5 is compatible with a single motor output of the GT1 at input end, while the output connector is compatible with the old standard DB9 port, so old astronomical mountings or motors are suitable for use.
The PM5 also is well insulated, using an optocoupler as input stage, can be over/lower volted safely.
It has these features and connectors:
RJ12 digital input connector, positive active
Coaxial supply voltage, center positive
DB9 output connector
High current and voltage: up to 5A/24V impulsive per channel
Optical input insulation
Read the PM5 Usage Guide for informations on the correct usage of the PM5 driver
Availability: In stock
Continue reading →

The AHP XC series includes quantum counters, crosscorrelators and autocorrelators.
The XC series products acts as counter, autocorrelator and crosscorrelator with up to 256 inputs and a maximum bandwidth of 200MHz, reaching up to 32640 baselines cross-correlated on single quantum level.
They support three operating modes:
Counter: each input's pulses are counted within the sampling time and the totals are reported by the serial port each frame.
Autocorrelator: to obtain the power spectra of the pulse fluxes of each input.
Crosscorrelator: each input pulse is cross-correlated with other inputs' pulses, with head and tail lag reports.
Each input has an independent internal adjustable delay.
Intensity correlation can be applied to photonics, interferometry, proximity sensing, quantum computing and radiation spectrography.
AHP offers both optical and radio options for intensity interferometers with its radio detectors and PMT assemblies, the C-language SDK and support for your projects.
AHP XC general specifications:
Up to 256 inputs for a maximum of 32640 baselines
Up to 4096 channels (8193 in cross-correlation mode) per line
1 to 16 tau multiplier, power factor of 2
5ns minimum pulse width
Up to 200MHz bandwidth
Sampling rate up to 200Msps
Input resolution ranging from 1 bit to sampling bits
Autocorrelation multi-tau mode
Crosscorrelation multi-tau mode
Independent delay lines selection for autocorrelator and crosscorrelator modes
Direct reading of pulse, autocorrelation and crosscorrelation counts
Correlation counts readout of all baselines each serial frame
57.6, 115.2, 230.4, 460.8, 2000 Kbaud serial rates
Connectors:

TTL UART jack communication port
External jack line connector with independent switching pass-through on each input
External 10MHz clock SMA input connector with 40x internal PLL (up to 400MHz)
10MHz Clock monitor SMA output connector for optimal clock tuning
Sampling clock SMA output connector for external hardware synchronization
Strobe input SMA to start integration from external hardware
RJ11 connectors standard for easy plug

Open Source C SDK
Open Source test GUI software
Buy options:

XC8

8 inputs
counter, autocorrelator, crosscorrelator
28 baselines
2048 channels
24bits capacity
82Hz maximum frame rate
100 Mcps maximum count rate
100MHz  sampling clock
10MHz monitor clock output
frame sync output
10MHz external clock input (software enabled)
External integration strobe input

XC32

32 inputs
counter, autocorrelator, crosscorrelator
496 baselines
180 channels
16bits capacity
1.5 Mcps maximum count rate
22.8 maximum frame rate
25MHz  sampling clock
10MHz monitor clock output
frame sync output
10MHz external clock input (software enabled)
External integration strobe input

Custom designs are accepted
Availability: 5 weeks
Continue reading →

The HSP17 is a photomultiplier assembly.
The HSP17 offers various sensibility and spectral response options.
The assembly contains the power supply and the readout circuitry.
Its connector is compatible with the XC series cross-correlators.
Power supply and pulse readout by using a single cable.
It has a front optical entrance and can house a thermal cooler or specific adaptive optics.
The light entrance has a C-type threaded input, compatible with many optical path laboratory standards.
Specifications:
Areas of application:

Astronomy
Optical Spectroscopy
Quantum Spectroscopy
Gamma Spectroscopy
Electron Microscopy
Photon Counting
Light Measurement
High-Speed Photometry
Intensity Interferometry
Cherenkov Radiation Sensing

RJ11 input plug

PMT PSU voltage: 115vac
Readout circuitry voltage: 3.3v
TTL output voltage: 3.3v

Options:

HSP17-7

Spectral range: 300nm – 600nm
Sensitivity: 680A/mW
Dark counts: ~300cps
Count rate: ~1Mcps
Sensible area: 10x20mm

HSP17-9

Spectral range: 380nm – 420nm
Sensitivity: 68A/mW
Dark counts: ~300cps
Count rate: ~0.7Mcps
Sensible area: ø50mm

Light and electrically shielded housing
Light entrance: C-type threaded (front)
Cooling or mechanics: Space within the PMT and the housing for custom design
Availability: 5 weeks
Continue reading →