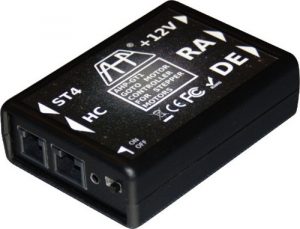 The GT1 is a stepper motor controller with goto functionality.
The GT1 can be configured to drive any kind of mount, since it is capable to adapt on any gear ratio from the configuration software.
You can change the gear ratio settings, microstep resolution, motor winding configuration and maximum goto/slew speed.
Each motor winding can be supplied by the GT1 with a maximum of 1 Ampere current. The GT1 supports overvoltage up to 18v for greater torque.
The GT1 is also compatible with the Skywatcher SynScan handset, it is EQMOD-ready, so you can use it standalone or by PC connection using software like SkyCharts, KStars or other software.
It is also possible to drive the GT1 from the smartphone using INDI and KStars for Android.
The precision in low speed, including autoguide and sidereal tracking, is 64 microsteps.
The maximum speed has no limit, but must be appropriate to the load and weight of the telescope and the power of the engines.
The configuration software can set motor parameters, go-to acceleration and maximum speed.
Specifications:
Compatibility: SynScan, EQMOD, ASCOM, INDI
max steps: 16777216 – Automatic calculation during configuration
maximum speed: Automatic calculation during configuration – optimizable
microstepping resolution: Automatic calculation during configuration – depends on total gear ratio
Inputs:

ST4 Autoguider – RJ 12
HC/EQDIR – RJ45
12v Power – 5mm Jack

Outputs:

Right Ascension – RJ12
Declination – RJ12

Recommended power supply: 12v@3000mA
Extras:

Editable motor winding configuration by software
Custom parameters saved read-only, editable by the configuration software
The configuration software – downloadable here – can set motor parameters, go-to acceleration and maximum speed.
Read the
GT1 Usage Guide
for informations on the correct usage of the GT1 controller Availability: In stock
Continue reading →
The PM5 can drive 4 digital/PWM outputs reaching as high current as 5A per channel, switching in range of 0-5/0-24 volts at a maximum frequency of 10KHz.
The PM5 is compatible with a single motor output of the GT1 at input end, while the output connector is compatible with the old standard DB9 port, so old astronomical mountings or motors are suitable for use.
The PM5 also is well insulated, using an optocoupler as input stage, can be over/lower volted safely.
It has these features and connectors:
RJ12 digital input connector, positive active
Coaxial supply voltage, center positive
DB9 output connector
High current and voltage: up to 5A/24V impulsive per channel
Optical input insulation
Read the PM5 Usage Guide for informations on the correct usage of the PM5 driver
Availability: In stock
Continue reading →